[:pt]
Esta é uma análise feita à Organização Defensiva do Valência contra o Barcelona, correspondendo à 9ª Jornada para LaLiga (22/10/16).
O sistema táctico utilizado pelo Valência é o 1-4-3-2-1 (imagem 1) embora a estratégia utilizada pela equipa valenciana se baseie no momento defensivo e em explorar o contra-ataque. Portanto, a maior parte do tempo o sistema utilizado é o 1-4-4-1-1 (imagem 2).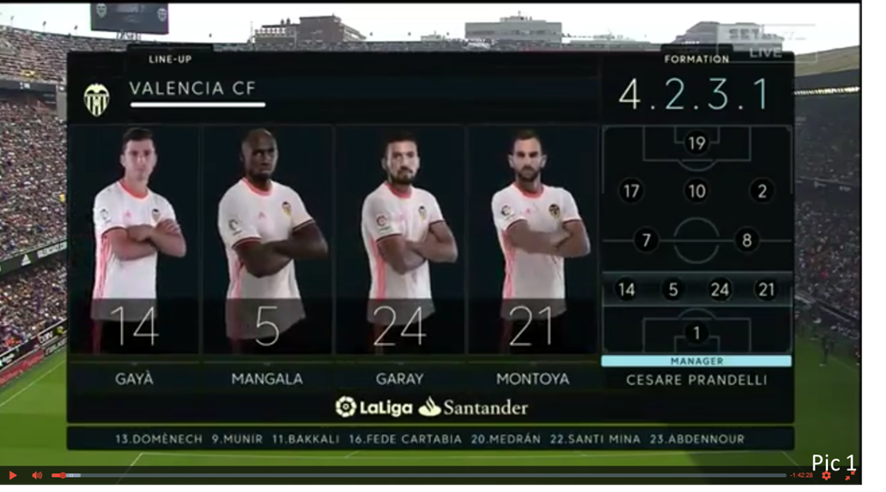 Zona Média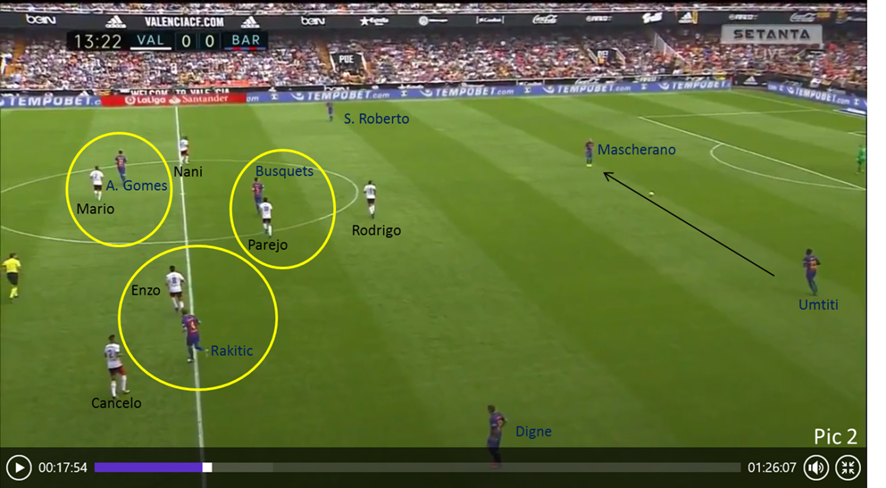 Normalmente eles não pressionam alto e permanecem na zona intermédia, permitindo que o adversário construa curto e circule a bola pela linha defensiva. Utilizam uma linha média com 4 jogadores (Cancelo-Enzo-Mario-Nani) mais 1 (Parejo) com algumas referências individuais. Rodrigo possui uma atitude passiva, não pressionando os adversários e permanecendo no corredor central entre os defesas centrais e Busquets. Já Parejo mantem-se na zona de Busquets, impedindo que este receba a bola no sector intermédio. O mesmo sucede com Enzo-Iniesta/Rakitic e Mario-A. Gomes. Desta forma, o Valência procura condicionar o jogo interior do Barcelona e obrigar ao jogo exterior (imagem 3).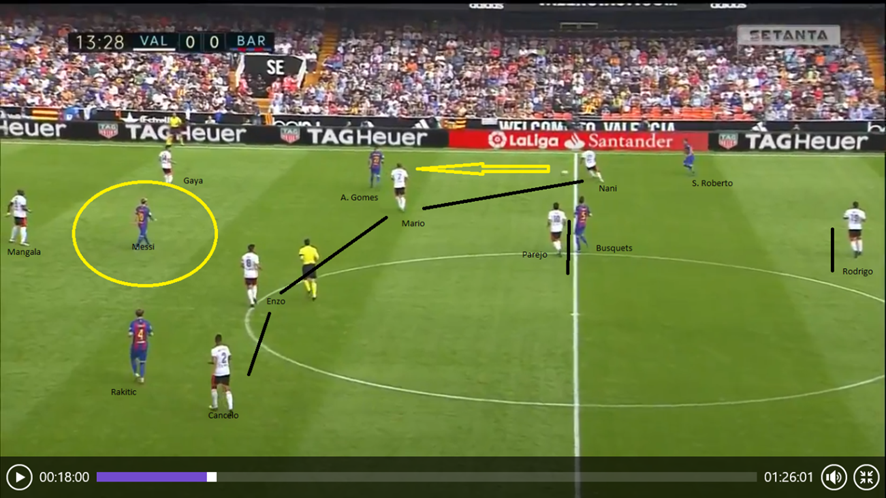 Aqui podemos também verificar a existência de algum espaço entre as linhas defensiva e média que poderiam ser melhor explorados pelo Barcelona, bem como, o arrastamento de Mario para fora da posição devido ao movimento de A. Gomes.
 
No seguimento da jogada podemos verificar que o Valência consegue criar superioridade numérica no corredor lateral, criando uma situação de 2×5 (imagem 4).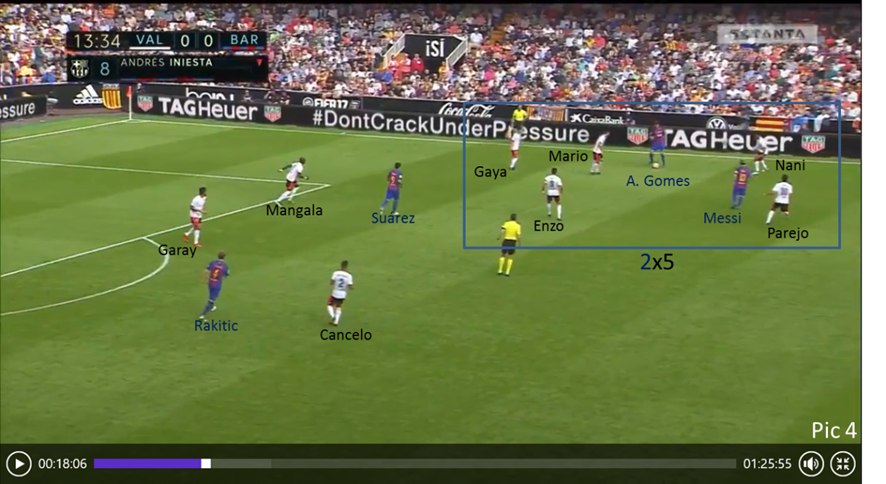 Zona Defensiva
Procuram defender alto e fora da área usando duas linhas de 4 jogadores. Cancelo e Nani preocupam-se com os laterais adversários (marcação individual) Digne e S. Roberto mas preocupam-se em fechar dentro quando a bola está no corredor lateral oposto. Eles permitem algum espaço entre os dois médios centros Enzo e Mario que podem ser explorados (imagem 5).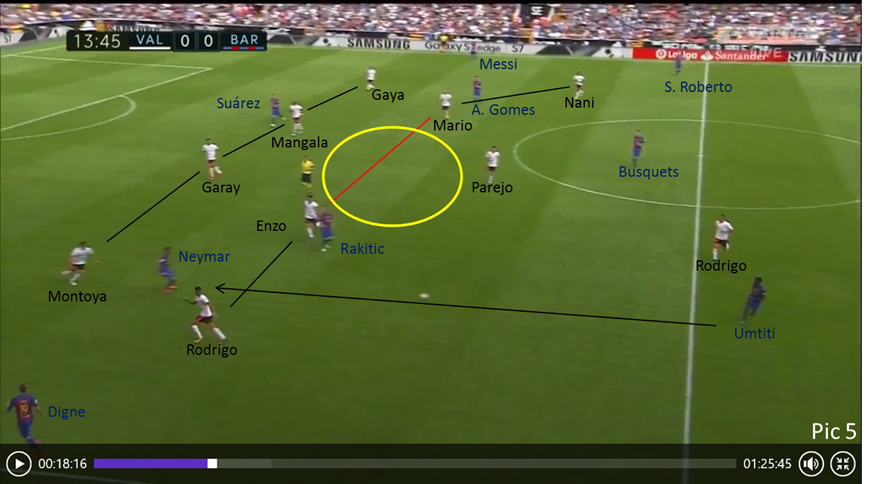 Bem como defesa lateral – defesa central Montoya – Garay (imagem 6). Nesta imagem podemos igualmente verificar uma situação de 3×3 no corredor lateral, permitindo a igualdade numérica e não estando em superioridade que seria o ideal, assim como, alguma distância entre Enzo e Mario novamente.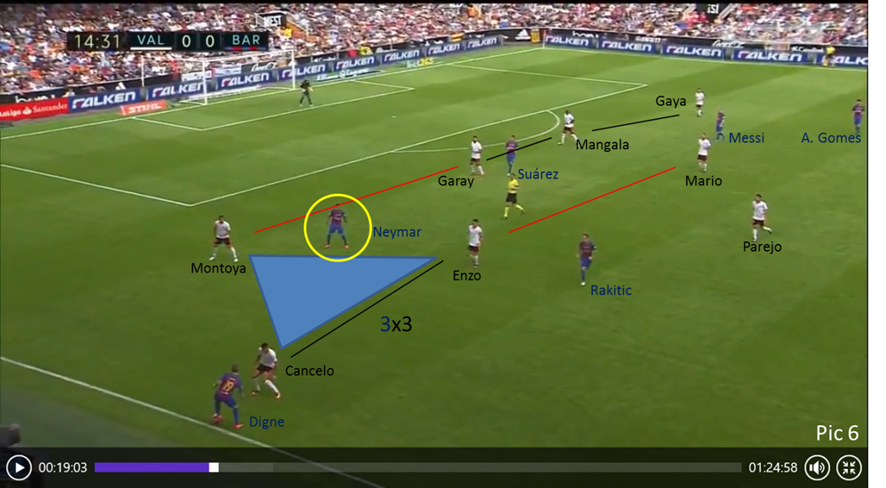 Como é que o Barcelona marcou o primeiro golo?
Antes disso é importante analisar a imagem 7. Digne (lateral esquerdo) recebe a bola e Neymar (extremo) faz uma desmarcação em apoio, abrindo na linha lateral e arrastando Montoya com ele, conseguindo com este movimento criar espaço entre o defesa lateral (Montoya) e defesa central (Garay) para poder ser explorado por A. Gomes. Nesta situação Enzo acompanha A. Gomes e impede que o passe para A. Gomes surja.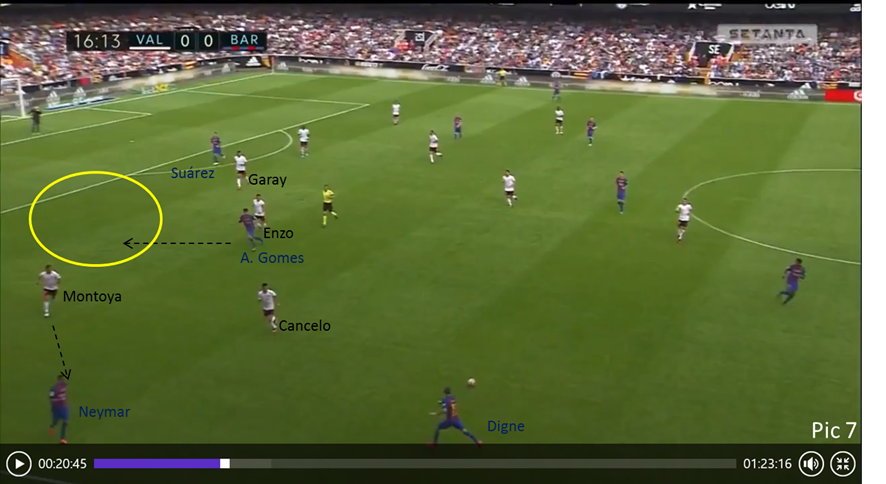 O mesmo comportamento verifica-se nas imagens seguintes (8-11) correspondentes à jogada do primeiro golo do Barcelona. A diferença está em Mario, ao não acompanhar ou acompanhar tarde de mais a desmarcação de Rakitic que assiste Messi no golo.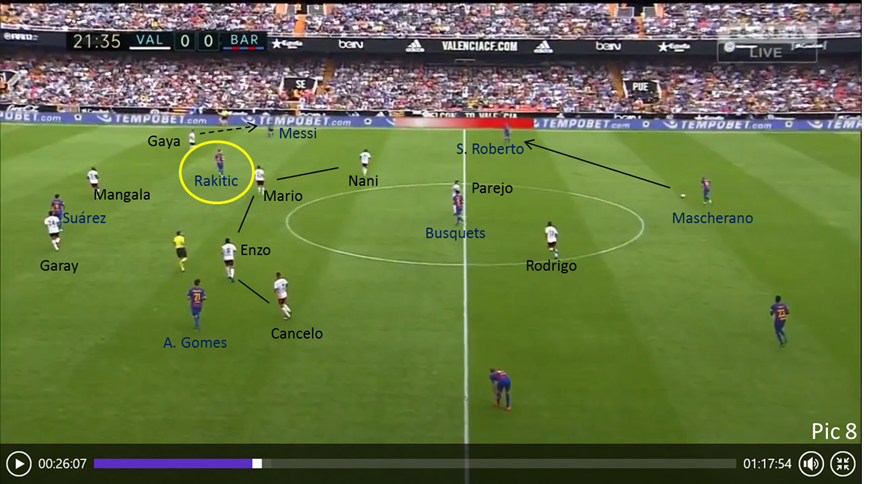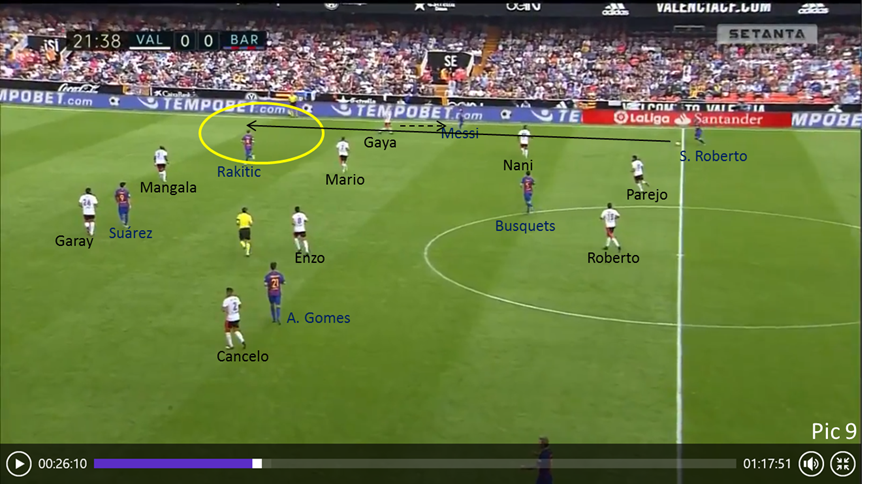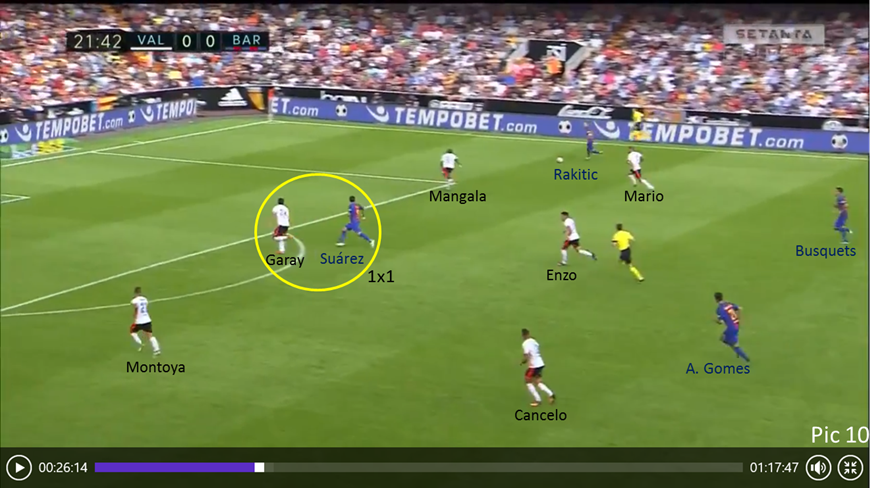 Os outros dois golos do Barcelona foram marcados através de duas bolas paradas, um de canto e outro de penalty.
O resultado final foi 2-3.[:en]This analysis is about the defensive organization of Valencia against Barcelona in LaLiga (22/10/16).
The tactical system was 1-4-2-3-1 (picture 1) but the strategy of Valencia was based on the defensive moment and on the exploration of the counter attack. So most of the time the system was 1-4-4-1-1 (picture 2).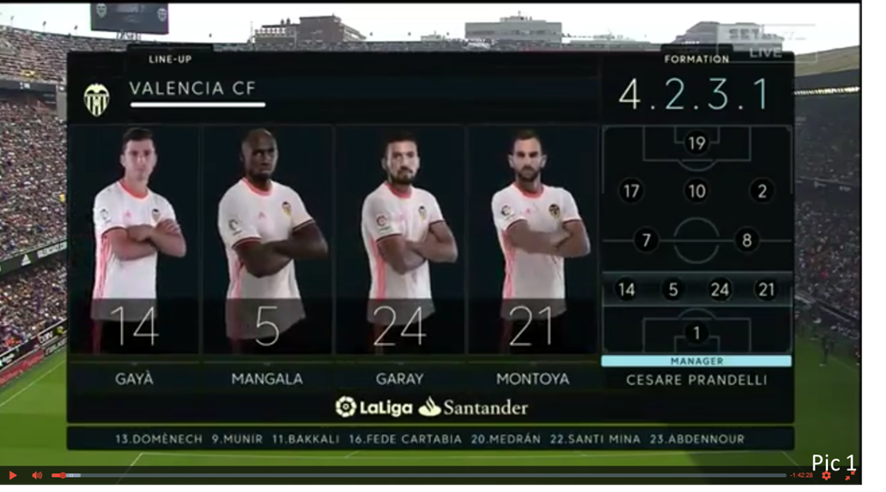 Medium Zone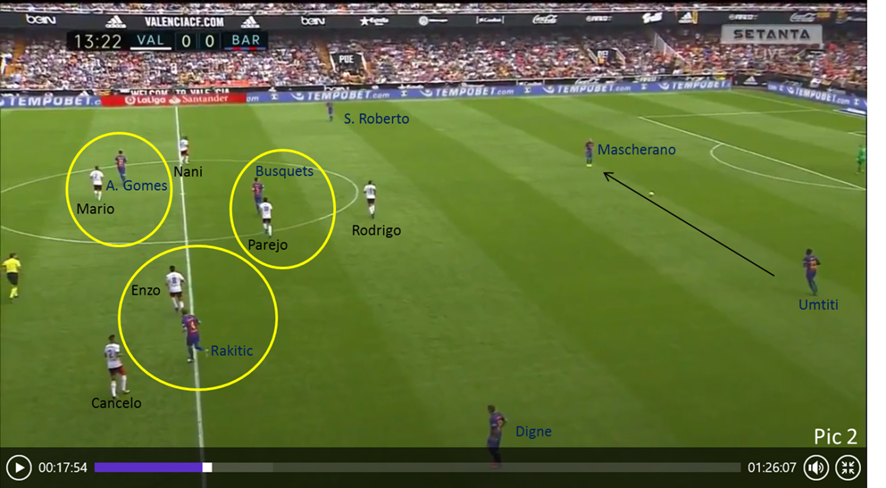 Normally they didn't press high and stayed on the midfield zone. They used a medium line with 4 players (Cancelo-Enzo-Mario-Nani) plus 1 (Parejo) with some individuals references. Rodrigo was passive and stayed on the center between CBs and Busquets, Parejo was close to Busquets like Enzo-Iniesta/Rakitic and Mario-A. Gomes. By doing so Valencia tried to block the passes and moves inside and forced Barcelona to play outside (picture 3).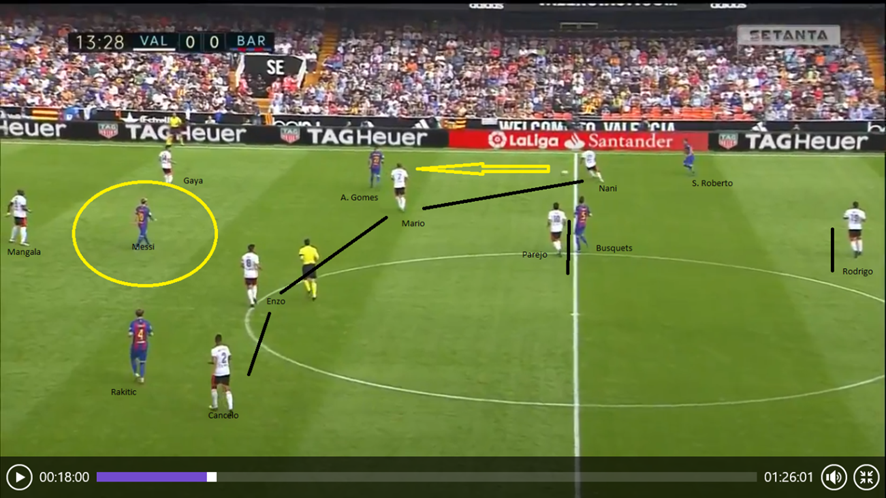 Here we can see some space between defensive and medium lines that could be better exploited by Barcelona and Mario dragged out of position because of the move of A. Gomes.
Following the move we can see Valencia with more players on the lines – 2×5 (picture 4).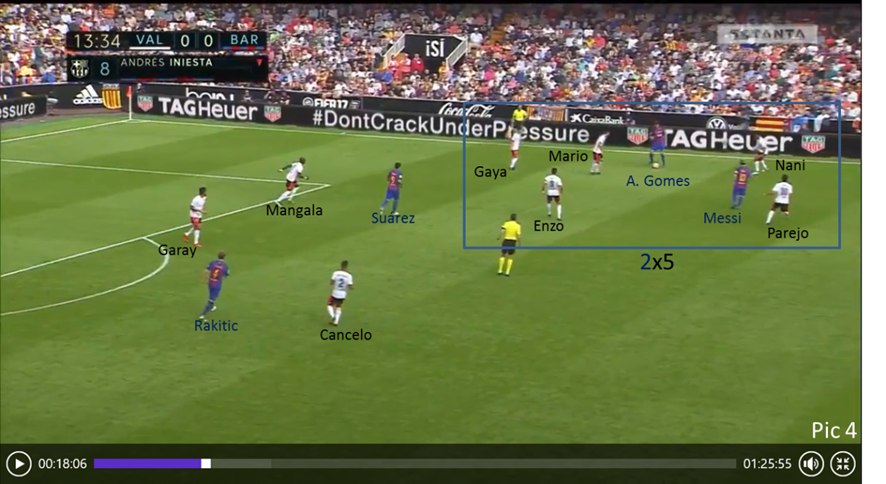 Defensive zone
They tried to defend high and outside the box using 2 lines. Cancelo and Nani defended man to man against Digne and S. Roberto but closed inside if the ball was in the opposite side. They allowed some space between Enzo and Mario that could be explored (picture 5).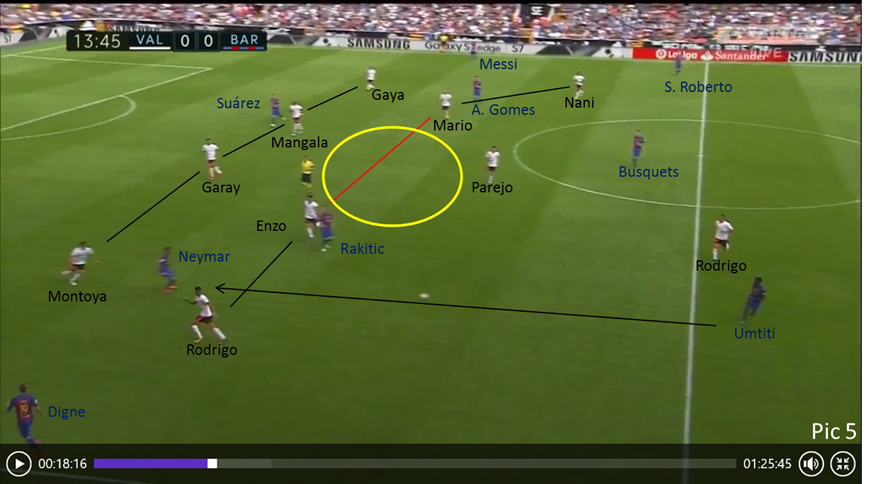 And between full back – central back Montoya – Garay (picture 6). Here we can see a 3×3 situation  (not ideal) and some space between Enzo and Mario again.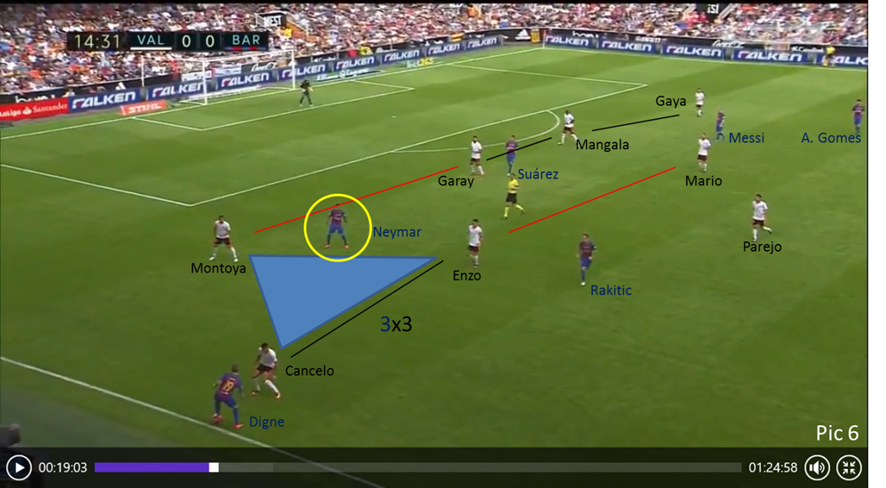 How Barcelona scored the first goal?
Before it is important to see the picture 7. Digne (full back) received the ball and Neymar (winger) moved in support and opened on the line, Montoya followed him and the space between Montoya (full back) and Garay (central back) could be exploited by A. Gomes. In this situation Enzo followed A. Gomes and he do not receive the pass.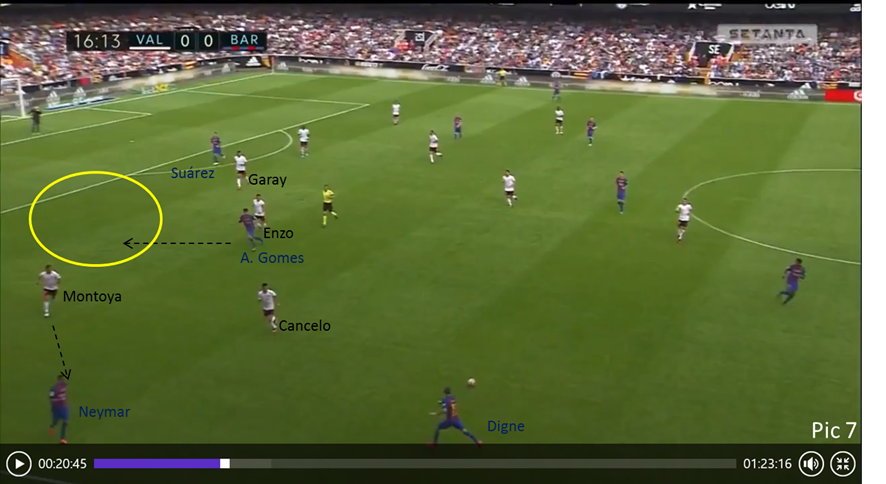 The same behavior in the next pictures (8 – 10) when Barcelona scored the first goal. The difference is Mario, he did not follow Rakitic and he could pass for Messi to score.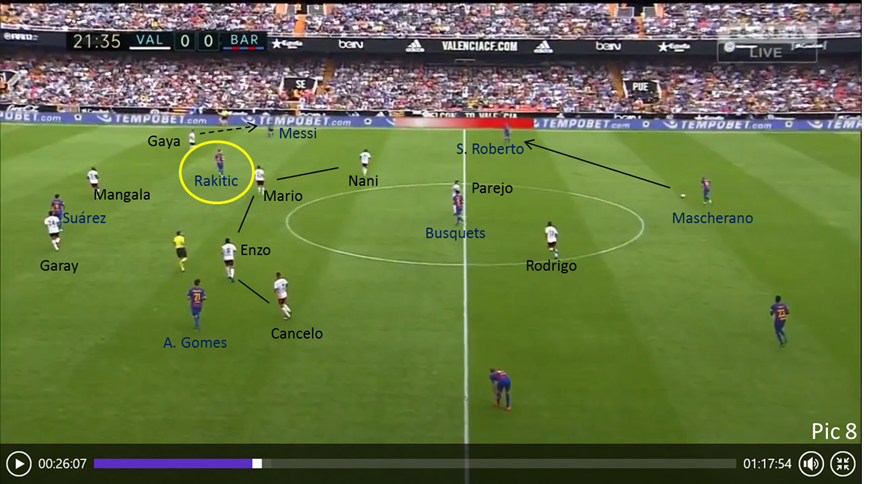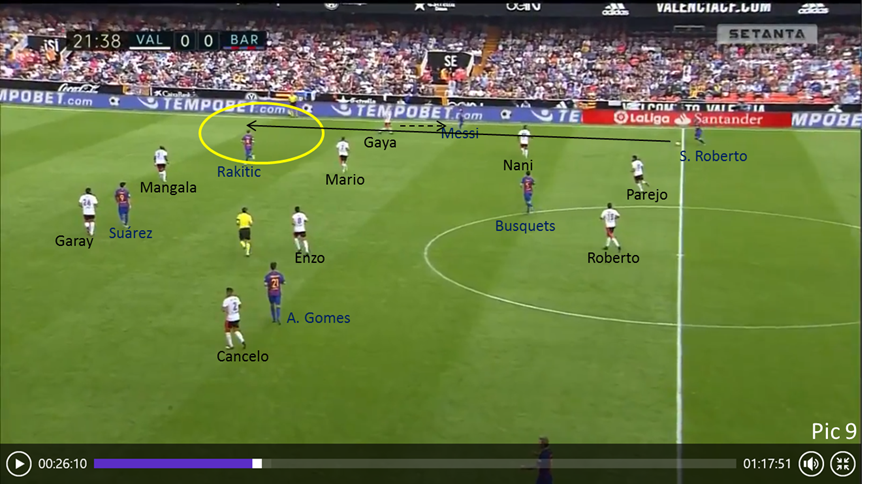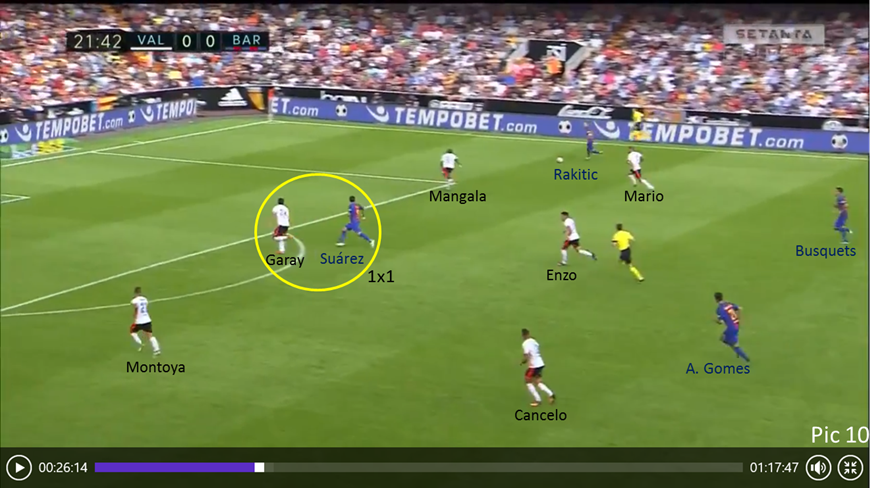 The other Barcelona's goals were from set pieces: corner and penalty.
The result was 2-3.[:]
---
Para todos os clubes, treinadores, jogadores, olheiros, agentes, empresas e media que queiram saber mais sobre os nossos serviços de scouting, não hesitem em contactar-nos através de mensagem privada ou do nosso email geral@proscout.pt.